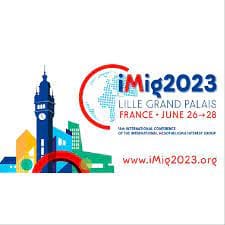 The 16th international Mesothelioma interest group (iMig) conference happened last month (Jun26-28) in Lille, France. https://imig2023.org/
It was a energetic and exciting conference and PREDICT-Meso was very busy- see below for more detail:
PREDICT-Meso lead, Prof Kevin Blyth co-led the Mesothelioma pre-clinical models and results workshop
PREDICT-Meso students had abstracts accepted for presentation as part of Workshop 3: Imaging (AI, diagnosis, staging…) in the main auditorium)
Clinical Lecturer in Respiratory Medicine (NHS Greater Glasgow and Clyde/ Univeristy of Glasgow) Dr Geeshath Jayasekera (@Geeshath) presented 'Anatomical and symptom changes in malignant pleural effusion using 4-dimensional magnetic resonance imaging'
Our Visiting Summer student from Universidade Estadual de Campinas (UNICAMP), Brazil, Taylla Theodoro (@TayllaTheodoro) presented 'Development of an automated machine learning tool for reporting of MRI-Early Contrast Enhancement in Mesothelioma' with support from Prof Kevin Blyth who introduced the presentation
PREDICT-Meso members had 6 abstracts accepted for posters presentation
Extent and sources of discordant therapeutic response classification in malignant pleural mesothelioma by expert readers: A multicentre retrospective cohort study. Dr Gordon Cowell (@GWCowell), Consultant Radiologist (NHS Greater Glasgow & Clyde) and Meso-ORIGINS radiology lead
An update regarding the Meso-ORIGINS study (Mesothelioma Observational study of Risk prediction and Generation of paired benign-meso tissue samples, including a nested MRI Sub-Study): part of the PREDICT-Meso Accelerator. Dr Mark Neilly (@MarkNeilly3), PREDICT-Meso Clinical Research Fellow & Meso-ORIGINS clinical study co-ordinator
The Scottish Mesothelioma Network: Impact of a national multidisciplinary team on Overall Survival in Malignant Pleural Mesothelioma. Dr Matthew Tate, Macmillan Mesothelioma Clinical Research Fellow (NHS Greater Glasgow and Clyde)
Serial serum mesothelin (SM) as a biomarker for disease progression and mortality in pleural mesothelioma (PM). Dr Geraldine A Lynch (University of Bristol, UK)
Genetically Defined Mouse Models of Malignant Pleural Mesothelioma recapitulate human MPM phenotypes and response to therapy. Pooyeh Farahmand (University of Glasgow)
Prediction of Resistance to Chemotherapy using Somatic Copy Number Variation in Mesothelioma: Results of a multi-centre retrospective cohort study. Prof Kevin Blyth (@kevingblyth), University of Glasgow & PREDICT-Meso Lead.